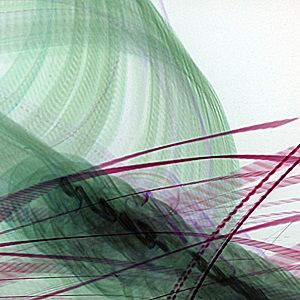 Kandinsky Blue
2'05, 180 bpm
Vasily Kandinsky was synesthetic, his senses translated into other senses.
This composition interprets his watercolor Horizontal Blue into sound. The image shows a set of vertical and horizontal lines that read like grouped eighth notes. The background is speckled and mostly blue, but with a red square on the left and a faint blue rectangle on the right.
Kandinsky Blue alternates A and B sections:
- The A sections translate the vertical lines into beats. Each horizontal line is voiced by a different percussion instrument. Bass notes and synthesized choirs fill the spaces.
- The B sections respond to and make variations on the A sections. Each B section gets progressively longer in response; why decelerate rather than accelerate? No particular reason, just to hear the effect.
Bells announce the changes of sections.
The rhythm is offbeat and complex, as can happen when you think synesthetically.